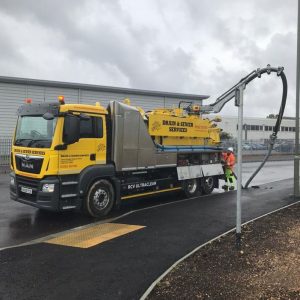 When Storm Alex struck on October 3rd, the UK recorded its wettest day since 1891. Indeed Hampshire experienced 100% of its average October rainfall in only half a month*. As a consequence, there was widespread flooding and damage to property and valuables alike which came at a significant cost and inconvenience.
Some of the flooding was caused by blocked storm drains which could not cope with the sudden volume of water that arrived. To minimise the damage that results from such excessive rainfall, storm drains must be vigilantly cleared so that they are always ready for the rainy days ahead.
What is a storm drain?
Storm drains allow rain and surface water to run off when there is nowhere else for it to go. It is especially important for roads and pavements. You often see many of them situated within built up residential areas at the edge of the road.
Why storm drains stop working
Storm drains can become covered by fallen leaves and debris, built up over time, which prevents water from entering the drain. Drains can also become blocked by an accumulation of debris and silt that has been washed down the drain. When the drain is blocked, water cannot escape, so it accumulates on the surface, making roads and pavements more dangerous, creating an unpleasant environment and putting people and properties at risk of flooding.
How Drain and Sewer Services can help
Investment in equipment, such as our RCV Ultra Cleaner Recycler Lorry and a highly qualified team mean we can offer a broad range of services:
Clearing and Jetting: Our lorry mounted jetting and suction units mean we can clear any storm drain withing minutes making sure flood water is cleared quickly and safely.
Pre-Planned Maintenance (PPM): A PPM contract puts in place regular checks and measures agreed with you so that you take a proactive approach to maintaining storm drains to protect the real estate or infrastructure under your care.
Investigation and Repair Services:  Our skilled engineers perform a full range or repairs and carry out investigations with minimal disruption, using CCTV surveying. We work with established partners, such as Renoline who supply all of our inspection and lining materials to deliver consistent quality.
24-hour call out service: All calls are taken by our management team so they can direct engineers with the right equipment to your site as quickly as possible, 24 hours a day.
Need help with blocked drains or sewers?
At Drain and Sewer Services we have been successfully clearing, cleaning, repairing, inspecting and surveying drains for more than 50 years. Find out how we can help you, by calling us on 01252 312738 or email info@drainandsewer.co.uk.