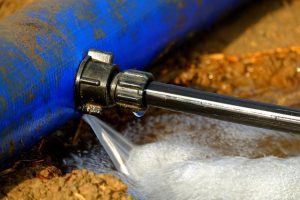 Damage to underground pipes is caused by corrosion, cold weather, tree roots or ground movement. Signs indicating that you have a problem include bad odours, patches of water in your garden, cracks in walls and floors or even an infestation of pests.
The important thing is to act quickly before the damage becomes worse.
How is the damage found?
A CCTV camera is navigated along pipes using a remote-controlled vehicle and high-resolution pictures are transmitted to our specialists in real time so that they can assess the issue and determine the best approach to repairing the pipe.
What are my options for repairing pipes?
In most cases, no dig technology can be used to repair pipes, which means for you that the work is less disruptive, more efficient and cost effective, but this does depend on the extent of the damage. Ways in which pipes can be repaired include:
Relining. The lining is coated in a resin and once the pipe is inserted an inflatable device follows and expands to align with the existing pipe's form. The resin then cures, sealing the pipe and recreating the structure. The inflatable device is removed when the resin has hardened.
Replacing pipes. When it's not possible to fix the damage by relining the pipe, it will need to be replaced.  This requires excavation of the site to remove the damaged pipe section and a new pipe laid in its place.
Laying new pipes
When laying new pipes, it's important to ensure that operatives have the right experience and qualifications to provide proper installation which adheres to relevant legislation and building requirements. Our team at Drain and Sewer Services lay pipes in a variety of locations and are NRSWA Streetworks accredited to dig up road surfaces safely for pedestrians and motorists, ensuring they return them to their pre-repair condition.
Need help with blocked drains or sewers?
At Drain and Sewer Services we've been successfully inspecting and unblocking drains, culverts and gullies for more than 50 years. Find out how we can help you, by calling us on on 01252 312738 or email info@drainandsewer.co.uk.