With shoppers stranded in shopping centres and families being evacuated from their homes in South Yorkshire last week we're seeing at first-hand how quickly torrential rain can turn into flooding and how no-one expected it until it happened.
The clean-up will take months and £millions, not to mention the distress and disruption for the owners of private and commercial properties and to public amenities. If the worst happened to you, do you have access to a 24-hour emergency service to help minimise flooding and get you back on your feet?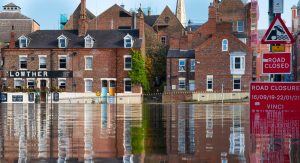 Emergency calls managed by our experts
The well-established operation of Drain and Sewer Services in Farnborough has the skills, vehicles and specialist machinery to deal with flood incidents. Our teams deal directly with emergencies and have full control to access everything needed to deal with the situation quickly and efficiently.
The right equipment for the job
Supporting clients to maintain drains, gutter and sewers on a daily basis and with long experience in roadworks lets us offer an end-to-end service dealing with floods and the aftermath. Our lorry-mounted suction and jetting units clear the flood water so that our NRSWA Street Works accredited people can get to work repairing any damage to roads and pavements.
Flooding prevention
Once the initial flood water has been dealt with, to reduce the risk of further flooding we'll find the cause and fix it. Our specialist hi-tech CCTV equipment enables us to carry out detailed observations of the surrounding areas to determine the cause of the flood, provide clients with a detailed report of the issues and our recommendations to repair them.
We'll then carry out repairs which need not mean further disruption of digging up surrounding areas. We have no-dig methods to fix damaged drains that are cost effective and efficient.
Whether you have flooding from blocked culverts or burst mains, damaged drains or leaking septic tanks, our 24-hour emergency services puts our customers needs first.
Need help with blocked drains or sewers?
Find out how Drain and Sewer Services can help you, by calling us before it's too late on 01252 312738 or email info@drainandsewer.co.uk.