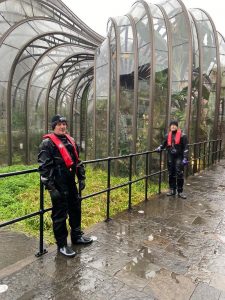 There is a never a dull day at Drain and Sewer Services, with such a wide variation of jobs that the team undertake. You might think we just unblock drains and sewers, but there is so much more to our work, from cleaning culvert channels and grills, to resetting bollards and putting up fences!
Recently we were called out to an incredibly special site in Hampshire, popular with Gin lovers, attracting people from all over the country – the Bombay Sapphire distillery in Whitchurch!
Based at Laverstoke Mill in North Hampshire, the Bombay Sapphire Distillery is in a conservation area with over 1,000 years of history, once producing bank note paper for the Bank of England. Now the mill is a state-of-the-art distillery producing the world famous Bombay Sapphire gin.
The River Test runs through the site, flowing under several of the buildings and so there are a number of fish passes to ensure the fish can move freely. However, some of these passes had become completely blocked in multiple places and needed clearing to allow the fish pass to flow and enable the turbine to be reintroduced to the system.
Such a complex job required the crew to rotate so the job could be completed manually and successfully as per specification and associated risk. Our engineers working on the job, needed to not only be qualified to work in confined spaces but also in fast, running water!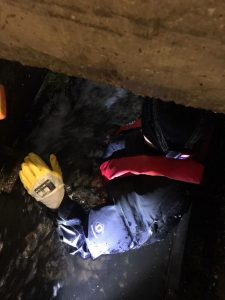 Our client was delighted with the work undertaken by the Drain and Sewer Services team and the fish pass is now flowing freely, ready for wet weather ahead!
50 years above and below ground
For over 50 years we have been relied on by our customers, from the Ministry of Defence, NHS, Local Authorities and schools to businesses and private individuals and have responded quickly and professionally no matter the time or the challenge. If and when you have a drain or sewer emergency problem, put us to the test, we will be ready whatever the time of day. Please call free on 01252 312738 or email info@drainandsewer.co.uk.