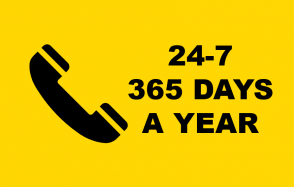 Drains and sewers are in use all day every day, which is why we make sure we can respond to an emergency, day or night, every single day of the year (yes even Christmas!)
When a problem occurs, a delayed response can lead to flooding, unpleasant smells and additional costs. We offer emergency responses, and have teams offering round the clock support and can be called on whatever the hour.
All our 24-hour services are offered by our own team of highly trained engineers using highly specialised machinery. We offer a 24-hour dedicated line to answer your calls by one of our management team not a call centre.
Our call outs cover:
All external blocked drains, from storm drains to gullies and culverts
All internal blockages, from blocked sinks to blocked drains and toilets
Emptying of septic tanks, pump stations, sewage treatment plants and cesspits
Flooding emergencies
Burst water mains
For over 50 years we have been relied on by our customers, from the Ministry of Defence, NHS, Local Authorities and schools to businesses and private individuals and have responded quickly and professionally no matter the time or the challenge.
Whether it is a problem in the middle of the night, or the early hours our team can deal with problems effectively and efficiently. We know that situations such as these can often have a financial consequence for businesses if they suffer downtime and can put pressure on landlords and property management businesses.
If and when you have a drain or sewer emergency problem, put us to the test, we will be ready whatever the time of day. Please call free on 01252 312738.