If you are looking to purchase a new property why not reduce the risk of unexpected and unpleasant additional costs by having a pre purchase drain survey done.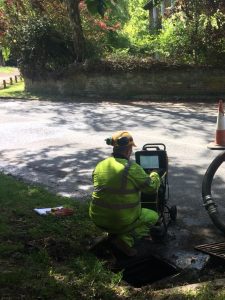 Why have a drain survey before purchasing?
Buying a property is one of the biggest purchases we can make. We do our best to ensure we make a sound investment by conducting building surveys before a purchase, but making sure you have drainage that's fit for purpose can also help to highlight any potential work that may be an additional cost.
And for landlords, having a survey before tenants move in can help prevent future disputes regarding drainage issues.
What can these surveys find?
Our team will send in the crawler, our remote-controlled vehicle with a CCTV camera to complete an inspection of your drains and help discover a variety of issues, such as:
Root damage from trees
Collapsed pipes
Cracked and fractured pipes
Blockages
Pest problems
When issues are identified a pre purchase report recommends solutions and provides a quote for addressing issues so you are fully aware of what you are dealing with and how to address it. You'll also benefit from:
An instant view of your drainage and any potential issues
A detailed report that can help negotiate a reduction in the house price to cover the cost of any repairs or agree repays to be completed before purchase.
DVD evidence of inspection
With our expertise and technology, we are able to offer a wide range of drain surveys services for residential and commercial clients, including:
Site surveys and investigation work
'Build over' surveys for Local water authorities
Site development surveys
Drainage Routing / Mapping
These surveys enable you to make informed, cost effective decisions and help ensure regulatory compliance.
Need help with blocked drains or sewers?
At Drain and Sewer Services we've been successfully inspecting and unblocking drains, culverts and gullies for more than 50 years. Find out how we can help you, by calling us on on 01252 312738 or email info@drainandsewer.co.uk.